Betting News
In August of 2017 we visited SK Vard Haugesund several times, where we were able to get a glance into the "Vard-modell".
Virtual Betting - Important info!
Our tipster competition will take a break starting August 2018.
Recent Posts on our Forums
SfStats.net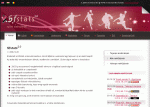 Sfstats is our sport statistics website. It contains football, basketball, ice hockey and handball statistics, fixtures and standings.
It also has an archive going back a couple of years, so you can always check a team's previous games against another team.
Data is updatet three times every day, and so are the average odds displayed. Keep in mind that the odds are there for informational purposes only, and they may not be accurate.
Why should you bet online?
Online betting has a lot of advantages:
you can bet from home
great offers: there are lots of bookmakers out there and each of them has a different offer with different odds. You can easily choose the best odds.
bigger limits on your stakes
you can make single bets, combined bets, system bets, asian handicap bets, etc.
you can choose to become the bookmaker if you play on betting-exchanges.
you can use online wallets to easily transfer money from one place to another
We hope you'll find useful content on this site. You can always ask questions on our forum.
53 guests, 0 users are online right now.